Excursions, Tours & Trips in Egypt
Egypt Excursions offers tours and excursions from all the major tourist resorts in Egypt including Cairo, Luxor, Sharm el Sheikh, Hurghada, Alexandria and Aswan.
We've been taking UK tourists on tours to Egypt's famous sights since 1998 so we're one of Egypt's most established tour operators.
There's 20 Trips from Hurghada starting from just £7, click to view our full range.
There's 15 Trips from Cairo starting from just £7, click to view our full range.
There's 11 Trips from Aswan starting from just £0, click to view our full range.
There's 9 Trips from Luxor starting from just £7, click to view our full range.
There's 28 Trips from Sharm starting from just £7, click to view our full range.
Excursions and Tours in Egypt
Over the years we've built our reputation to become Egypt's favourite tour operator, just read our reviews and you'll see why! So if you're going on holiday to Aswan in Egypt and looking for some tours, staying in Alexandria and wondering what excursions are on offer or holidaying in Luxor, EgyptExcursions.co.uk have tours, trips and excursions to make your holiday one to remember.
With EgyptExcursions.co.uk you're in safe hands, with thousands of very happy customers each year, just read our reviews to see why since 1998 we have been Egypt's favourite tour operator!
Cairo, Luxor, Aswan, Sharm el Sheikh and Hurghada Tours
Over the years we've become well-known for our wide range of family-friendly tours and trips throughout all the Egyptian tourist resorts. We know better than anybody that the days you'll remember most of your holiday to Egypt weren't the lazy days you spent around the poolside (although that does sound pretty good), rather it will be the amazing days you spent visiting the ancient Pyramids of Giza on our Cairo tours, the afternoon you spent scuba diving amongst the colour fish of the Red Sea, or the mornign spent zooming over the golden desert sands on a quad bike!
Book your tours in Egypt today and make the most of your time in Egypt.
---
Our Latest Review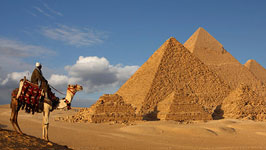 Private Tour to Cairo by plane from Sharm - One Day trip
This was our second trip with Egypt excursions, we got tickets sent which was a slightly later flight when asked to change flights to an earlier one this was not a problem and we got earlier flights even upgraded to business class! We were met by tour guide Mary who was lovely and provided us with lots of information and made us comfortable the full day :) this was a great trip and we would recommend booking with Egypt excursions everything went to plan from pick up at the hotel to pick up once we got off the flight :)
Louise burrows
from Uk - 11th Oct 2023
---
Latest FAQ
Asked By:
Asked by
on 23rd May 2019
Concerning Tour:
El-Alamein Day Tour from Alexandria Port
FAQ Catagory:
Specific Excursion
Can you guarantee return to our cruise ship on time? Thanks
Almost all of our customers booking day trips from Alexandria are on cruises, stopping at Alexandria port. As such we fully understand just how important it is to be back to your ship on time for departure. We will make sure we know your ships departure time, and have you back with plenty of time to spare after the tour.