Have a Question? ... Ask Us
Frequently Asked Questions about Egypt Excursions
If you have a question about any of our trips, or Egypt in general, post it below and we will try to answer it as quickly as possible.
Ask Us A Question
FAQ Catagories Customer Questions about Specific Topics
Latest Questions
Asked By:
Asked by
on 23rd May 2019
Concerning Tour:
El-Alamein Day Tour from Alexandria Port
Can you guarantee return to our cruise ship on time? Thanks
Almost all of our customers booking day trips from Alexandria are on cruises, stopping at Alexandria port. As such we fully understand just how important it is to be back to your ship on time for departure. We will make sure we know your ships departure time, and have you back with plenty of time to spare after the tour.
Asked By:
Asked by
Amanda Bagshaw
on 6th April 2019
Hi
I am interested in booking this tour for 2 adults and 2 teenagers aged 14 and 16 on the 18th April.
I would like to know how many other people would be on the same tour and travelling with us for this trip?
Thank you
Hello, We arrange this tour as a small groups between 6 till 10 persons to offer the best service ! Mohamed
Asked By:
Asked by
Mrs Khan
on 24th March 2019
Concerning Tour:
SharmExcursions General Question
Hello, we are staying in Sunrise Royal, makadi bay, Hurghada. Can you confirm if you pickup from the hotel if we book excursions?

Thank you


Hello , Kindly We would like to confirm that : for all the tours we will pick our customers from Sunrise Royal Makkadi but this will be for only 20 GBP. Extra for each trip for all the number of persons into your booking . and the same for El-Guna, Soma Bay and Safaga ! Mohamed
Asked By:
Asked by
Nikesh
on 23rd March 2019
Concerning Tour: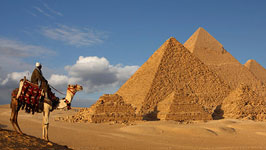 Cairo by Plane From Hurghada One Day Trip
Hello. I am keen to book the trip for my wife's 50th and want it to be extra special. What ideas do you have ? We have our two daughters with us aged 18 and 15. Also is the trip for us only or do we have to join others. How long is the flight ? Thanks
Hello Sir, We will offer you a great deal, will upgrade your trip to a private trip only for your family because you are 4 persons without extra charge . there is a nice idea we can arrange a nice birthday cake and private boat trip on the Nile for only 50 GBP. for all of you to make your trip very special trip . Mohamed
Asked By:
Asked by
Mark Twiss
on 8th March 2019
Concerning Tour: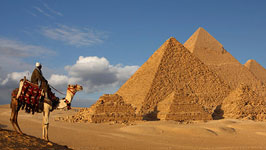 Cairo One Day Private Tour from Hurghada by A/C Vehicle
Hi, was wondering if you could provide a private driver with vehicle to drive to Giza from Hurghada for an overnight stay. Leaving Hurghada on morning of Friday 15th March to arrive at Giza le Sphinx Mecure Hotel for mid afternoon and then to return from the Giza hotel back to Hurghada on the morning of Saturday 16th. There will be two adult passengers. If you provide this service please provide a price. There is no tour required just transport to Giza and back. Thanks.
Hello Yes we offer this private trip to Cairo and if will be without entrance fees the cost will be 18 GBP. Less ! Mohamed
Asked By:
Asked by
Ploy
on 14th February 2019
Concerning Tour:
Full Day private Trip to Pyramids and Egyptian Museum
I would like to pay for the whole thing not just the deposit. Why is there no option for this?
Hello, This will be okay to book on-line and pay only 10% deposit to complete your booking and the rest amount on the day of your trip , this just to make it more easy for you ! Mohamed
Asked By:
Asked by
Wendy Curlett
on 7th January 2019
Concerning Tour:
Luxor 2 Days Tour by Road from Hurghada
On the 2 day tour to Luxor approximately what time do we arrive at overnight hotel where is the hotel located.?
Does this tour include Luxor Temple ?
Hello, Regarding our 2 days Luxor trip : Lotus Hotel in Luxor on B-B Basis is included for one night . this trip includes Luxor temple . Mohamed
Asked By:
Asked by
David Alton
on 13th December 2018
We will be visiting Hurghada from 07/03/19 to 14/03/19 and staying at the Serenity Makadi Beach hotel. Do you offer free pick-ups and drop-offs from Makadi Bay?

Will there be an opportunity to visit Tutankhamuns tomb while at the Valley of the Kings?
Hello, for all our tours we will pick you up from your hotel in Makkadi to go on your trip and after the trip will drop you off at the hotel but for extra cost only 20 GBP. extra for all of you for each tour . during your Luxor full day trip from Hurghada for sure you have availability to visit the tomb of king Tutankh-Amoun .
Asked By:
Asked by
Nyi Htwe
on 11th December 2018
Concerning Tour:
Full Day private Trip to Pyramids and Egyptian Museum
If we book a trip online, we pay 10% as a deposit. How can we pay the remaining balance?
Hello, You will pay the balance in cash in Cairo before your trip when you meet our rep. at your hotel in Cairo, you can pay the balance in English money or in US $ or in Euro or in Egyptian money as you prefer . Mohamed WhatsApp. +201061329990
Asked By:
Asked by
Keba
on 1st October 2018
Concerning Tour: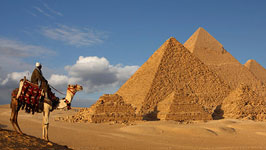 Cairo by Plane From Hurghada One Day Trip
What exactly is included in the price please? Hotel pick up in Hurgada to airport and back? Entry fee to Cairo Museum and any other entry fees? Lunch? Many thanks
Price Includes: A Friendly and Knowledgable Egypt Excursions Tour Guide All transfers by A-C van English speaking Egyptologist guide Fly Tickets Soft drinks in the van Entrance fees to the pyramids and museum Lunch during tour at specialty restaurant